Global Markets – When Supply and Demand Move Offshore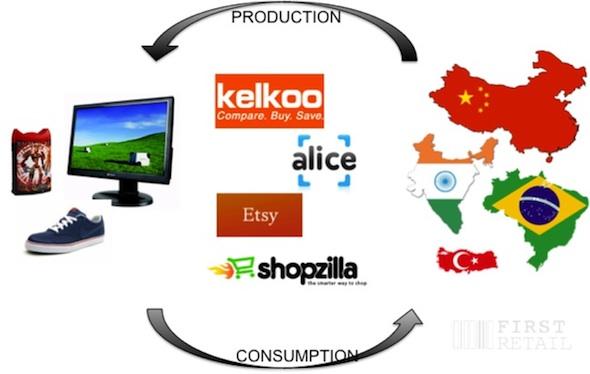 The last twenty years has seen ever more production moving offshore. The increase in shipping traffic bringing manufactured goods from developing to developed nations has grown, even through the recent recession there was only a slight dip with current predictions signaling recovery. However retailers looking for growth outside of stagnating domestic markets are building a presence in developing economies, many of which are the source of much of their inventory. For a retailer whose country home base is neither the source of supply nor the source of demand what will be the new operational model?
Reaching out to Distant Markets
Many retailers are using services such as FiftyOne and iShopAmerica to handle the international payments and shipping as a beach-head into a foreign market. This is useful to test a market with a view to entering it with a full operation, local site and fulfillment, perhaps even a local physical presence.
Mandated Local Sourcing
As retailers entering foreign markets discover, the country government exercises their concern for local industry by mandating local sourcing policy. A recent example – as a condition of it's purchase of a controlling share of South African chain Massmart, Walmart has to invest $14m (USD) in local sourcing initiatives.
Local Sourcing for Agility
Fashion show season guides what retailers should be stocking two seasons out and for retailers manufacturing offshore that creates a significant lead time. Buyers are continually guessing what might be popular and gambling cash on the Open to Buy. As the fashion industry moves from seasons to half seasons, perhaps even more frequently. So what happens when the market shifts – a lot of stock offloaded to the consignment buyers and auctions.
Re-establishing local sources to create manufacturing agility. Create a limited range and ship small quantities to stores then measure what is selling and manufacture more of the top sellers. A local source may be more expensive per unit cost price, but net margin when you take account of returns, markdowns and dispositions. A local source of manufacture in todays long lead time fashion industry might make the buyer seem almost psychic.
Sustainability Initiatives
Retailers have been embracing sustainability for some time – pressure from advocacy groups, environmental stewardship and social responsibility are all creating pressure to adopt new Corporate Social Responsibility initiatives.
One outcome of this is Local Sourcing. If these initiatives are properly designed, they could pay for themselves with certain supply chain savings, increased reliability of supply and if marketed well, could drive customer visits, sales and profitability.
The Virtual Retailer
Online retailers get by without investing in their own distribution facilities. Some don't even invest in inventory, preferring to engage Drop Ship Vendors to hold and manage inventory, then receiving customer orders from the retailer and fulfilling them to a shipper who provides the delivery service.
The Drop Ship Vendor can be anywhere in the world and as long as they have an optimized logistics infrastructure can ship product to any customer. In this way, the retailer can focus on providing the most compelling customer experience to customers in potentially any geography.
Forecast Emergence in Mainstream: 2013 – The notion of 'global' is changing, retailers must embrace both global supply and demand and be prepared to establish partnerships and alliances and to understand local markets in order to compete in the new international markets
Next post in this series of five: Payments – The Re-Statement of Currency
Previous post in this series of five: Multi-channel – Stores, Online, Mobile and More
Main post of the series: Retail Trends – Main
Things I read to get here
Globalization